Restaurant celebrates its first anniversary with a sponsored trip to Thailand and a brand new menu.
BANGKOK, THAILAND (18 February, 2020) – Thai restaurant operator, Mango Tree Worldwide, is celebrating the first anniversary of Mango Tree Bistro Dubai JBR by unveiling a competition for diners to win a trip for two to Thailand to discover the roots of Thai food and the history of the culinary brand.

From 1st – 31st March 2020, every table at the restaurant with a minimum spend of AED 200 will be rewarded with a raffle ticket. At the end of the month, one lucky customer will win a three-night vacation to Bangkok, including two return flights booked by Mango Tree, stay at Millennium Hotel Bangkok (bed & breakfast), dinner for two at Mango Tree's riverside restaurant in the Thai capital, a private cooking class, and a complimentary speedboat tour on the Chao Phraya, Bangkok's "River of Kings". The raffle draw winner will be announced on 5 th April, 2020.

The guests can now enjoy a new menu, beautifully crafted by Head Chef Atip Intarakased. The new menu features delicious Thai dishes such as Som Tam with Shrimps, or Mixed Seafood (DIY Som Tam – an interactive experience which allows diners to create their own fresh papaya salad), Yum Som-O (Pomelo Salad), Nua Dad-diew (Sun-dried Beef, deep-fried Thai style marinated beef served with Jim-jaew sauce). Mango Tree's signature style Poo Phad Phong Karee (Crab Meat with Yellow Curry Powder) that has become one of their signature dishes around the world and Crab Yellow Curry Powder Flatbread (a new twist with crab meat & yellow curry powder on house-made flatbreads) to name a few. Additionally, the bistro, located at Hilton Dubai The Walk, has introduced new vegan items to its menu. Ga-prow Quinoa (a tasty Thai blend of quinoa, tofu, chili and basil), Tofu Gor-lae (southern Thai style tofu with coconut curry), and Gaeng Kiaw Wan Fak-tong (green curry with pumpkin and bamboo shoots). This menu will be available at Mango Tree Thai Bistro from 1 st March onwards. In celebration of the 1 st Anniversary of this Thai Bistro, guests dining in will get 50% off on new dishes from the newly launched menu from 1 to 14 March.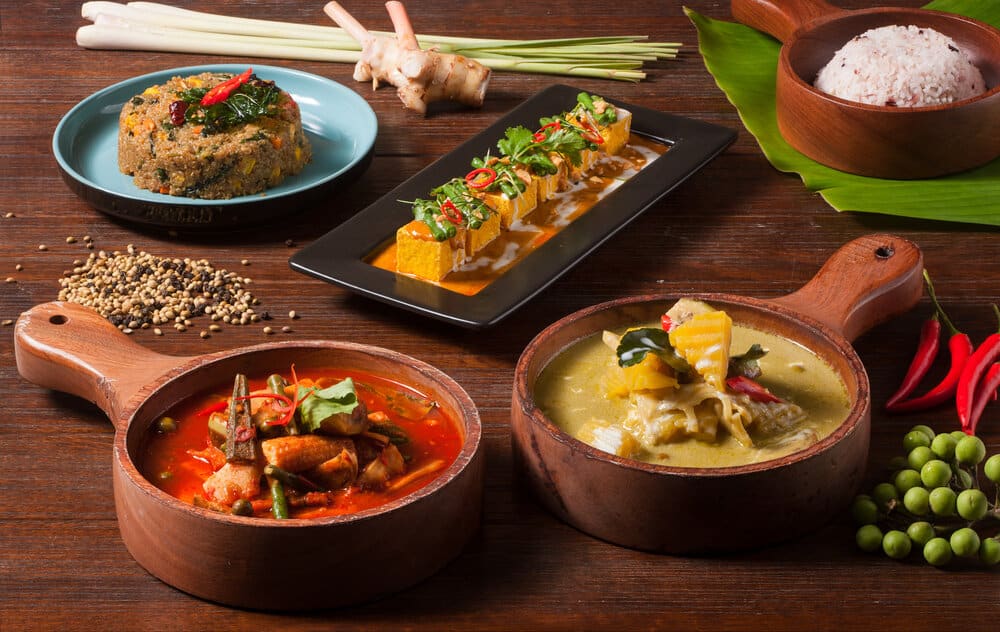 "We are delighted to celebrate the first anniversary of Mango Tree Bistro Dubai JBR. Ever since it opened its doors, this restaurant has been a huge hit. Naturally, as part of Hilton Dubai The Walk, it was warmly welcomed by international travellers. But we have also been thrilled by how the local community of JBR have embraced our concept. Our new menu will continue to showcase the finest flavors of Thailand while also reflecting the latest dining trends, and I look forward to making one lucky diner's dreams come true when we announce the winner of our competition," said Trevor MacKenzie.

Talking about the first Anniversary, Andreas Searty – Cluster General Manager of Hilton Dubai Jumeirah, Hilton Dubai The Walk & Hilton Dubai Creek said, "We are so proud to have Mango Tree Thai Bistro as a part of the portfolio of restaurants at Hilton Dubai hotels. I would like to thank our guests for welcoming us in the neighborhood and for bestowing us with their constant support and patronage. We will continue to provide our guests with warm hospitality, personalized service and high quality food".

Open daily for lunch and dinner, Mango Tree Bistro Dubai JBR is a fun, friendly and informal restaurant with indoor and alfresco seating. This makes it ideal for couples and groups of friends seeking a casual place to dine or celebrate social occasions.

This was one of 12 new outlets opened by Mango Tree Worldwide last year. The company is now well on track toward achieving its target of operating 100 outlets worldwide by 2025.
For further information and high-resolution photography, please contact:

Trevor MacKenzie
Managing Director
Exquisine System (Mango Tree & COCA Restaurants Worldwide)
Tel: +668 1550 3150
E-mail: trevor@exquisinethai.com
Website: www.exquisinethai.com

Key Terms and Conditions – Raffle Draw
Participants who dine in Mango Tree Thai Bistro JBR during March 1 – 31, 2020 with a minimum spend of AED 200 per bill will receive 1 raffle ticket per table.
The Contest is open to legal residents of Dubai, Who are (1) 18 years old or older as at the date of participation
Mango Tree Thai Bistro JBR reserves the right to disqualify and/or exclude any entries from the Contest, without limitation, breach of any portion of the Terms and Conditions
Mango Tree Thai Bistro JBR is responsible for this "Win a Trip to Thailand" campaign and reserves the right to cancel or amend the contest and the terms and conditions of this contest
Winner agree to be contacted by Mango Tree Thai Bistro JBR or its authorized representatives to participate in public relation events tied to the Contest. This may include, but not be limited to, giving quotes for inclusion in press releases, and press conference, interviews, etc.
Prize travel and accommodation arrangement must be redeemed within 6 months after the announcement. Prize travel and accommodation is valid on any date from 20 April to 20 July 2020, with blackout dates during any long holiday. Please contact DXBJB.mkt@hilton.com to book the trip at least 14 days before departure date.
Prize travel and accommodation arrangement must be redeemed within 6 months after the announcement. Prize travel and accommodation is valid on any date from 20 April to 20 July 2020, with blackout dates during any long holiday.
Subject to the terms and conditions, each Winner of the Contest shall receive: (a) two return flight tickets to Thailand (Thai Airways), (b) Three nights' stay in Bangkok in 4 star hotel, (c) Speedboat tour at Rattanakosin island (d) One dinner for two with cooking class at Mango Tree on the River. Mango Tree Restaurant reserves the right to make the final decision on the airline and hotels chosen for the winners.
The winner and their travelling companion will be responsible for any expenses not expressly included

Notes to Editors
The Mango Tree group is a dynamic, innovative and fast-growing company that has a vision to bring authentic Thai cuisine with a creative twist to the world, and to plant a Mango Tree in every major world city. At the vanguard of the global Thai food explosion, the Mango Tree group comprises the Mango Tree, Mango Tree Bistro and Mango Tree Café brands, as well as Coca, the contemporary steamboat suki concept. The group's heritage dates back to 1957, when Khun Srichai Phanphensophon opened the first Coca restaurant in Surawong, launching the suki trend in Thailand. The pioneering spirit continued when the group's CEO and celebrity chef Pitaya Phanphensophon, Srichai's son, opened the first Mango Tree restaurant in the heart of Silom in 1994. Today, the group operates more than 70 restaurants and Cafés in 13 countries in Asia and the Middle East. Part cultural ambassador and part culinary innovator, Mango Tree has charted a course to become the premier global Thai cuisine brand, delivering quality Thai cuisine, stylish design, and intuitive service that always exceeds diners' expectations.