ANGKOK, THAILAND
Mango Tree and COCA Restaurants, two Thailand-based franchise success stories that have grown to a total of 71 restaurants across the region, are setting a new benchmark for Asia's F&B market by introducing dedicated culinary retail spaces into all outlets.

The two restaurant chains, one the renowned Thai Mango Tree brand and the other the wildly popular Chinese hotpot chain COCA, are for the first time lifting the lid on some of their most closely guarded culinary secrets as the company continues create opportunities in the new market conditions.

The newly launched Market Place corners in each outlet will sell a wide range of sauces and snacks, as diners and outside visitors are encouraged to take a little piece of Thailand home with them and experience the group's time honoured culinary flavours in the comfort of their own abodes.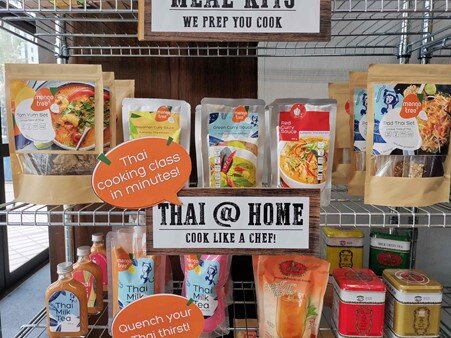 "Borders remain closed so many people can't travel to Thailand, the fourth largest tourism destination in the world and one truly loved for its food. So, we are unveiling some of our closest guarded recipes, encouraging customers to try them at home and keep the dream alive of their next trip to Thailand when they can travel again," said Mango Tree and COCA Restaurants Managing Partner, Trevor MacKenzie.

"We also need to be nimble to the needs of the market and look at new ways of generating revenue. So, we are leveraging the very heart of our business – the consistently original tastes in our cuisine – and bringing that into the retail space," Mr MacKenzie added. "It's a logical brand extension for us."

Pioneered in the Bangkok outlets and extending to all 10 countries' in which the two restaurant franchise powerhouses operate throughout Asia, Market Place is divided up into several different categories.

These are led by 'We Prep, You Cook' meal kits which offer cooking sets of fresh raw ingredients, sauces and spices; dried sets for dishes such as tom yam and phad thai; ready to use sauces, that just need protein and fresh vegetables adding, such as the iconic COCA Suki sauce, gaeng kiew wan (green curry) and gaeng ped (red curry) and gaeng massaman (southern curry).

Drinks to go include cold brew teas such as lemongrass and the famous Thai milk tea, while snacks include durian chips, salmon skin tom yam and mango sticky rice, ideal to eat right away or as gift sets.

The launch of Market Place follows other highly successful innovations this year for the restaurant group, with the launch of delivery services by its own team of bike riders who can service to the same standards and deliver an equivalent price as its restaurants.

Mango Tree and COCA Restaurants have now opened all of their restaurants in Asia as demand increases and brand loyalty becomes a key differentiating factor in future growth.

"In many ways we are returning to our roots," said Mr MacKenzie. "Original and high-quality food is at the core of what we deliver and we are looking to reach new market segments while retain the loyalty of existing ones."
For further information and high-resolution photography, please contact:

Trevor MacKenzie
Managing Director
Exquisine System (Mango Tree & COCA Restaurants Worldwide)
Tel: +668 1550 3150
E-mail: trevor@exquisinethai.com
Website: www.exquisinethai.com

Notes to Editors
The Mango Tree group is a dynamic, innovative and fast-growing company that has a vision to bring authentic Thai cuisine with a creative twist to the world, and to plant a Mango Tree in every major world city. At the vanguard of the global Thai food explosion, the Mango Tree group comprises the Mango Tree, Mango Tree Bistro and Mango Tree Cafe brands, as well as Coca, the contemporary steamboat suki concept. The group's heritage dates back to 1957, when Khun Srichai Phanphensophon opened the first Coca restaurant in Surawong, launching the suki trend in Thailand. The pioneering spirit continued when the group's CEO and celebrity chef Pitaya Phanphensophon, Srichai's son, opened the first Mango Tree restaurant in the heart of Silom in 1994. Today, the group operates more than 71 restaurants and cafes in 15 countries in Asia and the Middle East. Part cultural ambassador and part culinary innovator, Mango Tree has charted a course to become the premier global Thai cuisine brand, delivering quality Thai cuisine, stylish design, and intuitive.