Must-try dishes
Must-try dishes include the papaya salad and sautéed prawns, while you could do better than the lamb
Papaya salad with prawns. A few years after it shut in Downtown's Souk Al Bahar, this Bangkok import is back, opening up a new spot in Dubai's Jumeirah Beach Residence. The original Mango Tree first opened its doors in the Thai capital in 1994, and has since grown to open outposts in more than 10 countries around the world.
What to expect and where to sit
JBR may be a tourist's paradise, but Mango Tree feels like a sanctuary from the beachfront crowds, thanks to its location, nestled away on the plaza level of Hilton Dubai The Walk. Secluded from passers-by by a ­greenery-lined fence around the perimeter, the eatery feels surprisingly tranquil, given the reams of people walking around just feet away.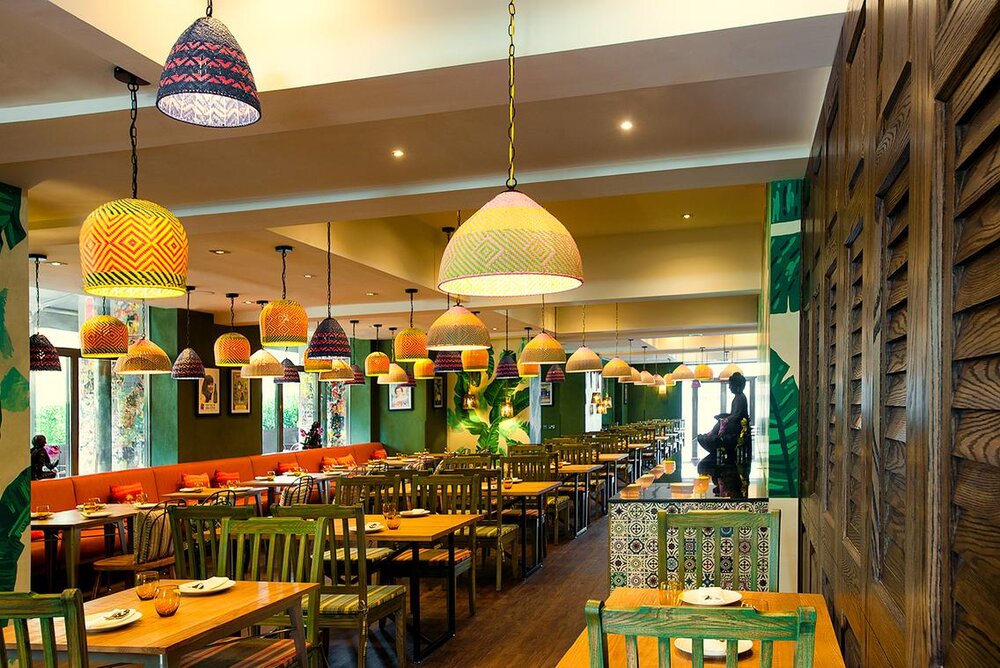 READ MORE
•Jose Avillez on his first Dubai restaurant Tasca: 'It's not fine dining, it's fun dining'
• A guide to West African food in the UAE
• Abu Dhabi's growing specialty coffee culture: inside Rain Cafe
A lantern-decked terrace has a certain ambience, with its soft mood lighting and, when we visit on a Tuesday evening at 7.30pm, a few tables of diners are enjoying the outdoor air. A higher stool-strewn area of bar tables separates those just enjoying a beverage from those eating.A generously large indoor area has plenty of seating options, yet doesn't feel crowded, while the linen-free wooden table and distressed poster-adorned walls bring a relaxed, informal air to proceedings. Lively leaf-printed wallpaper and orchids dotted on the windowsills add a tropical feel to the overall vibe.
The outdoor terrace provides an atmospheric seating option
Before the summer heat properly hits, we'd suggest making the most of the outdoor seating – but being inside does give you the chance to observe chefs in the open-plan kitchen.
The menu
The bistro concept has resulted in a wide, but not overwhelmingly so, selection of dishes, ranging from the classic South East Asian fare of pad Thai and spicy seafood soup, to more inventive options such as a duck red curry flatbread and watermelon salad with dried shrimp. There are also a generous number of vegan and vegetarian dishes on the menu, including okra salad, vegetable bao and pineapple fried rice.
Based on the recommendation of our helpful server, we ordered three small plates to share, and a main course each; however, two or three small plates per person would also leave you satiated, if you chose to forgo the larger dishes.
We were advised to try the signature chicken satay with peanut sauce and were pleasantly surprised to find it a more flavourful version that the many satays we've had before. The sauce is not overwhelmingly nutty, and the side bowl of pickled cucumber and onion added an acidic touch. Our only complaint was that the four skewers could have been served hotter; however, the succulent, sauteed prawns with young peppercorns were sizzling, with a chilli, garlic and pepper sauce served on the side, so you can make them as spicy as you'd like.
Portion sizes certainly veer towards the generous, even for the smaller plates. The green chicken curry featured a hearty helping of meat and aubergine slathered in a satisfyingly thick and rich sauce, while a side of sticky rice complemented the curry's heat with a hint of aniseed.
The sweet mango sticky rice, a small, glutinous tube of rice, drizzled with thickened coconut milk and served with slices of perfectly ripened fruit, tempers the kick of the savoury courses. It's a dessert that rounds off the experience, without leaving a cloying aftertaste.
Signature dish
Our standout plate of the night was the papaya salad, a fragrant helping of the fruit that was nowhere near as sweet as others we've tried (in the best way). Liberally doused with a street-food-style som tam sauce, it was refreshing and full of bite. The slow-cooked leg of lamb rubbed with Thai spices, while moist and well-cooked, didn't have the punchy tang we were expecting. A delicious option for those who don't tend to enjoy Thai food, perhaps; but those who want a true taste of the South East can find something more representative.
Who's eating there
Mango Tree's Facebook page touts the eatery as "great for date nights or a night out with friends", and during our visit, table were predominately ­occupied by couples and families with young children, with a few groups of pals outside in the bar area. Any kids were doted on by staff, ­proving it an exceptionally ­family-friendly offering for the area. Service was quick and efficient, suggesting it could also be a great business lunch spot, where you wouldn't be late back to the office.
A chat with the chef
Head chef Atip Intarakased is from the Kamphaeng Phet Province in Thailand. He has worked at AA Palladium Restaurant in Chon Buri and Montien Hotel in Bangkok, and at Le Meridian Al Aqah, JW Marriot Marquis and The Ritz Carlton Dubai. "I've tried to give a contemporary twist to Thai cuisine at Mango Tree, with a blend of indigenous and local flavours, which I think come out quite well in the spicy okra salad, which is suitable for vegans, and the jungle curry short ribs," he says.
Price points and contact information
Given the size of the offerings, the pricing is fair: the satay and prawns are Dh45 apiece; the papaya salad starts at Dh50, depending on what seafood you choose as a garnish; the green curry is Dh60; the lamb Dh99; the rice Dh29; and dessert Dh35. When sharing a range of small plates among a group, you'd get particularly good value for your buck. Mango Tree is open daily from 5pm to 1am. Call 04 374 7555 to make a reservation
This review was conducted at the invitation of the restaurant
Updated: April 10, 2019 04:15 PM
Original Post:
https://www.thenational.ae/lifestyle/food/restaurant-review-mango-tree-in-dubai-serves-up-generous-portions-of-thai-favourites-1.847299#3