BANGKOK, THAILAND Pioneering Thai food entrepreneur, Trevor MacKenzie, is predicting a major change in how Thai cuisine is sold and marketed around the world as demand for single culinary concepts fast outstrips traditional formats – offering great export opportunities for Thai food concepts overseas.
Say goodbye to large in-depth sharing menus, says the entrepreneur behind the Mango Tree and COCA Restaurants international franchise success stories that number 71 outlets across the region in 15 countries, and hello to quick service, on-the-go dining that focuses on a single culinary offering.
"It has been coming for a few years but has been greatly accelerated by Covid-19 where speed and specialization are the new nutrients of growth," said Exquisine Global managing partner, Trevor MacKenzie. "There are huge new opportunities now for Thai brands focusing on singular items to embrace a franchise model – and we are looking to take new Thai food brands across Asia.
"Specialist items have been the root of Thailand's culinary heritage for years that first saw food carts gathering to sell in the Phra Nakhon districts of Bangkok. This is street food, where vendors only sell Khao Kaa Moo, Guay Jap and Khao Man Gai for example and of course noodles, and this is the source of our inspiration."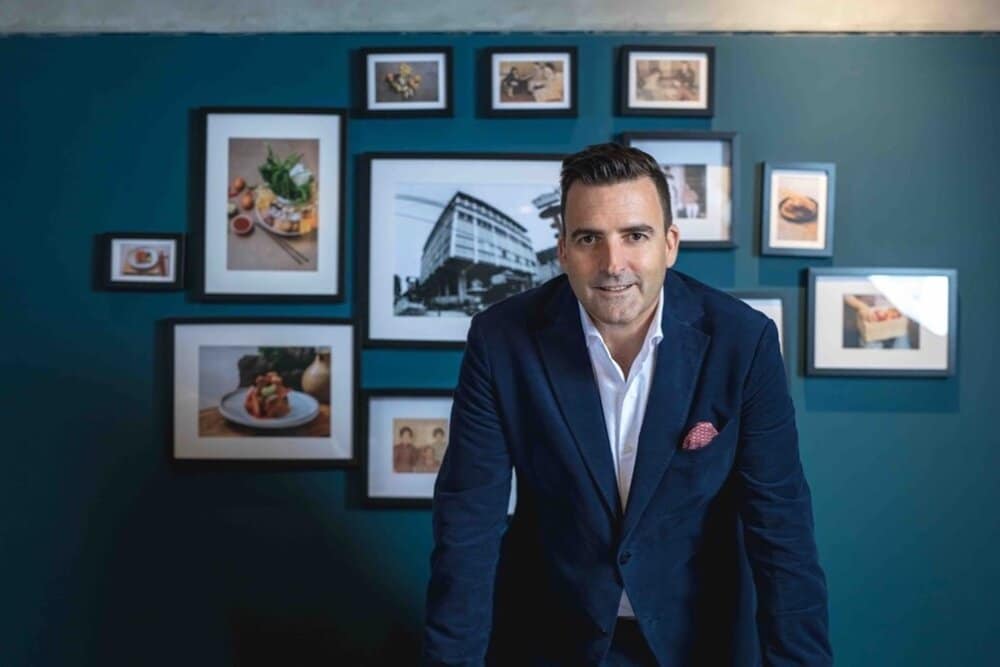 The award-winning culinary impresario, who has won four top franchise entrepreneur accolades in Thailand and consulted to the Ministry of Commerce and Department of Business Development, saw and prepared for the trend and tiered the Mango Tree brand two years ago. He created the Mango Tree Kitchen concept focusing on Krapao and Khao Man Gai, and currently has 13 Kitchen formats currently in operation in Japan and China. The suki hotpot brand COCA is undergoing a similar tiering process currently.
"We developed Mango Tree Kitchen as a result of feedback from our franchise partners and we will grow this considerably. But there are other opportunities too with desserts for example. Who has not fallen in love with Mango Sticky Rice? The quick-service, single-item outlet is a really hot space and Thai food is ideally placed to expand rapidly in the coming years across Asia and build their businesses by adopting a franchise model."
Mr MacKenzie is actively looking for other Thailand-based culinary brands to take overseas – ones that are specialists in a single product – and ones that have ambitions to grow.
"The game is changing. Authentic flavours and organic ingredients are important but they are a given. What is new is how regional markets have matured and embraced Thai food as an option eaten by urban residents across Asia's capitals and secondary cities multiple times each week," said Mr MacKenzie.
Other brands in Mango Tree's brand tiers are the flagship Mango Tree modern dining concept; Mango Tree Bistro, which is a younger, more casual after work hangout format with cocktails; Mango Tree Café, which is are fun, cosy formats typically found in shopping malls; Mango Tree Kitchen, inspired by Thai street food' and Mango Tree Grab & Go kiosks both found at airports and other transit hubs.
Mango Tree and COCA Restaurants are almost all back open and continue to grow at a rate of one opening per month. Five new outlets opened before Covid lockdowns and another three opened subsequently, including COCA Park in Shenzhen last week. The award-winning group also continues to win accolades across all formats – such as Mango Tree Guangzhou, which last month won a Michelin Plate for the second year running.
Ends
For further information and high-resolution photography, please contact:
Trevor MacKenzie
Managing Partner
Exquisine Global (Mango Tree & COCA Restaurants Worldwide)
Tel: +668 1550 3150
E-mail: trevor@exquisinethai.com
Website: www.exquisinethai.com
Notes to Editors
About Exquisine Global
Exquisine Global is an international franchise management company that has helped Thai culinary brands such as Mango Tree and COCA Restaurants successfully expand throughout Asia and the Middle East over the past 20 years. The company currently operates brands across a total of 15 countries, including China, India, Hong Kong, Malaysia, the Philippines and Vietnam. Exquisine Global continues to grow and leverage brand equity and opportunities, developing new brand tiers for existing brands, like the highly successful Mango Chilli brand. Managing Partner Trevor MacKenzie is a regular speaker at global industry events and in many ways is the voice of Thai and Asian food around the world. The company continues to seek new opportunities to develop Thai culinary brands and bring them international success.
About Mango Tree
The Mango Tree group is a dynamic, innovative and fast-growing company that has a vision to bring authentic Thai cuisine with a creative twist to the world, and to plant a Mango Tree in every major world city. At the vanguard of the global Thai food explosion, the Mango Tree group comprises the Mango Tree, Mango Tree Bistro and Mango Tree Cafe brands, as well as Coca, the contemporary steamboat suki concept. The group's heritage dates back to 1957, when Khun Srichai Phanphensophon opened the first Coca restaurant in Surawong, launching the suki trend in Thailand. The pioneering spirit continued when the group's CEO and celebrity chef Pitaya Phanphensophon, Srichai's son, opened the first Mango Tree restaurant in the heart of Silom in 1994. Today, the group operates more than 71 restaurants and cafes in 15 countries in Asia and the Middle East. Part cultural ambassador and part culinary innovator, Mango Tree has charted a course to become the premier global Thai cuisine brand, delivering quality Thai cuisine, stylish design, and intuitive.