BANGKOK, THAILAND (4 February, 2020) – COCA Holding International and Mango Tree Worldwide Restaurant Group, the world's leading Thai restaurant operator, welcomed its partners from around the world to Bangkok this month for its "2020 Global Franchisee Summit", an action-packed four-day event that will help drive the company's growth in an exciting new decade.

The biannual summit provided a platform for the company's partners, franchisees and executive team to meet, build stronger bonds, exchange best practices and discuss the way forward together. It also gave the group's overseas operators the opportunity to visit Thailand and take part in valuable CSR activities. This year's summit attracted 30 attendees from eight countries and territories: China, Hong Kong, Japan, Singapore, Malaysia, Philippines, Vietnam, India and the United Arab Emirates.

This four-day gathering kicked off when COCA Holding International and Mango Tree Worldwide Restaurant Group hosted a vibrant "full moon party" at Mango Tree Café CentralWorld, its newest destination in downtown Bangkok, which was transformed into a chic island beachfront! The entire moon was brought into the restaurant, as delegates slipped off their shoes and stepped onto the soft sand for an enchanting evening under the stars.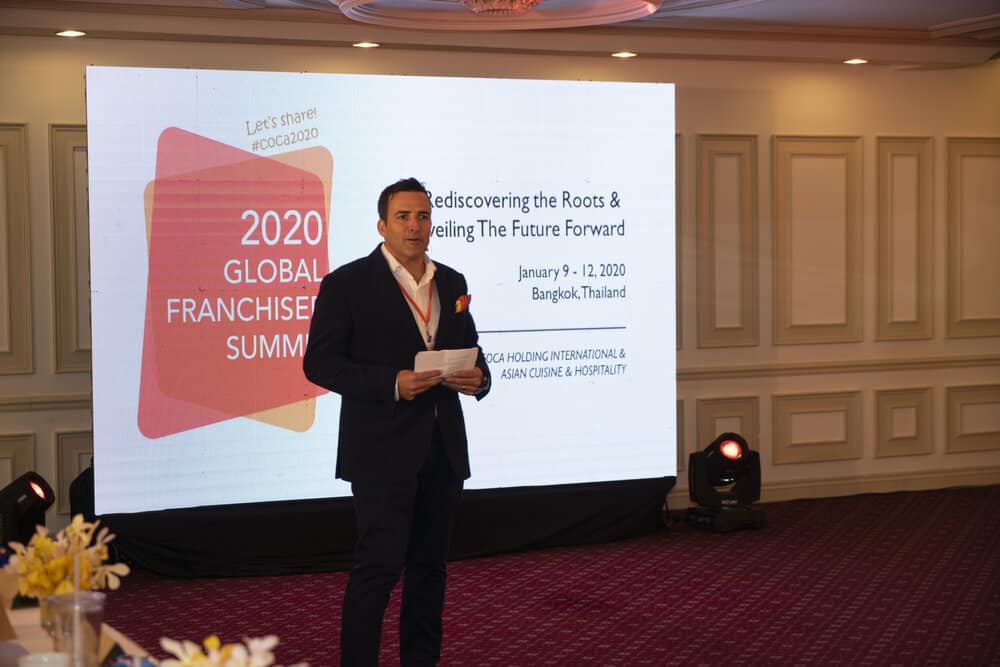 Then guests were immersed in a "work hard, play hard" agenda at COCA Surawongse, the flagship fine-dining destination since 1958, featuring a full day of interactive sessions, content-packed workshops, best practice sharing and outside-the-box sessions such as laughter yoga, which really helped to break down barriers and let attendees get in touch with their inner selves..

Following a welcome address from Trevor MacKenzie, Global Managing Director of COCA & Mango Tree Worldwide, Paul Kwok, CEO of 1957 & Co. (Hospitality) Limited, the franchisee of seven Mango Tree outlets in China and Hong Kong, gave a keynote speech on the "Success of the Loyalty Program". Guest speaker Ms Krittiya "Nan" Thaicharoendee, who has five years of social media consulting experience in the US, then hosted a content marketing workshop, before F&B veteran Eric Teng, CEO of Mother Spice Inc. and operator of four outlets in the Philippines, shared his views on how to "Re-invest, Re-invent".
COCA Holding International and Mango Tree Worldwide Restaurant Group hosted a vibrant "full moon party" at Mango Tree Café CentralWorld
Guests also took part in a blind tasting session for the group's new vegan lunch dishes, a session that surprised and delighted many attendees. Mango Tree's new vegan initiative embraces one of the world's most important culinary trends, which is likely to play an important role in the future of the F&B industry.

In the afternoon, a unique laughter yoga session with Ajarn Winner, a Thai TV personality, author and certified yoga coach, taught guests some of the techniques they need to stay cheerful, relaxed and channel positive energy. Mango Tree Worldwide's senior executives, including Chief Executive Officer Pitaya Phanphensophon and Chief Operating Officer Natalie Phanphensophon, then took to the stage to outline their vision for the future. The summit concluded with a "Journey through our Brands" exhibition, which offered insights into the brand's evolution, from its foundation to its future initiatives, and how the group is striving to build a stronger and greener community. A group dinner was hosted that evening, allowing delegates to socialise in a casual ambience and reflect on their day.

Perhaps the most important part of the summit was still to come, however; at the weekend delegates headed to Kanchanaburi Province to take part in a CSR project. In the remote community of Lao Kwan, en route to the Thai-Myanmar border, guests rolled up their sleeves, mingled with local villagers and broke down language barriers to build several check dams across a forest stream. Hosted in partnership with Thailand's Royal Forest Department, this activity was aimed at preventing deforestation and encouraging communities to live in harmony with nature. The partners also enjoyed lunch with the villagers. Following a journey back to Bangkok the next morning, the newly-inspired guests were able to spend a day exploring Bangkok at their leisure, before heading to the airport for their flight home.

"2019 was a landmark year for Mango Tree Worldwide, as we celebrated the opening of 12 new dining outlets in many dynamic destinations. This made January the perfect time to host our Global Franchisee Summit, capitalising on the positive momentum we achieved last year and outlining our vision for the future. It was wonderful to see so many familiar faces and new franchisees in Bangkok, and I am confident that our business is in very good hands. We look forward to working with all of our esteemed partners as we accelerate our global growth in 2020 and beyond," said Trevor MacKenzie.

Mango Tree and COCA Restaurants' global collection of outlets increased by 20 percent in 2019, to a total of 71 locations in 14 countries and territories. This means that Mango Tree is well on track to achieving its target of 100 outlets worldwide by 2025.