New premium dining destination opens at La Perle Plaza, joining the group's first restaurant in southern China's largest city, which has already won a prestigious Michelin Plate
The new Mango Tree Guangzhou is positioned in La Perle Plaza
Tom yum goong
Grilled pork neck fillet
BANGKOK, THAILAND (25 September, 2019) – Mango Tree Restaurants Worldwide, the leading Asian restaurant operator, has continued to introduce authentic Thai cuisine to the world's most dynamic destinations, with the launch of its second location in Guangzhou, the largest city in southern China.

The new Mango Tree Guangzhou is positioned in La Perle Plaza, a major commercial precinct on Huang Shi Road in the city's Yuexiu district. The new restaurant is surrounded by luxury brands, including Louis Vuitton, Prada, Versace and more, putting Mango Tree in the eyeline of high-end clientele. Open for lunch and dinner, this elegant eatery is suitable for every occasion, from intimate couples' meals and corporate business functions to family celebrations and special events.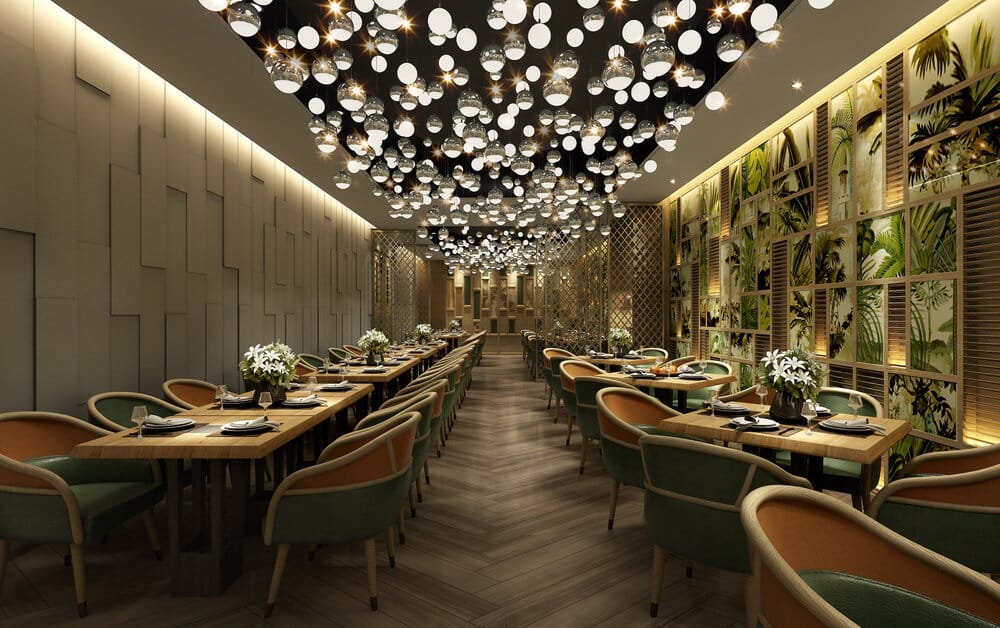 The new restaurant officially opened on 25th September 2019 and will initially host a series of tasting events for some of China's most prominent bloggers and Key Opinion Leaders (KOLs).

The opening of Mango Tree Guangzhou at La Perle Plaza follows the highly successful debut of Mango Tree Guangzhou at K11 Art Mall, which opened in 2018 within the 530-metre-high Guangzhou CTF Finance Centre. This impressive establishment has already been awarded a Michelin Plate by the judges of the Michelin Guide Guangzhou 2019, which reflects the quality of its cuisine, the freshness of its ingredients and the authenticity of its dishes. Many establishments that achieve this accolade go on to gain a full Michelin star in future years, and this will also now be the aim of Mango Tree Guangzhou at La Perle Plaza.

"We are delighted to launch our second full-service Mango Tree in Guangzhou, as our Chinese expansion strategy gathers pace. More than ten million Chinese travellers now visit Thailand every year, and many visitors are developing a deep appreciation of Thai cuisine. This is reflected by the success of our first location in the city, which has already established itself as one of Guangzhou's top places to eat," said Trevor MacKenzie, Global Managing Director, Mango Tree Restaurants Worldwide.

"With its perfect position within La Perle Plaza, arguably Guangzhou's most prestigious retail mall, this new restaurant will attract the new generation of affluent, outward looking Chinese diners who crave new experiences. We look forward to introducing even more local diners, expats and international guests to the finest Thai dining that Guangzhou has to offer," he added.

Mango Tree Guangzhou at La Perle Plaza will feature an extensive menu of highly authentic Thai dishes, crafted by expert chefs using fresh, locally sourced ingredients, prime meats and fresh seafood. Diners can choose from a wide variety of exquisite appetisers, including chicken in pandan leaves and Thai shrimp cakes, while a selection of salads and soups features Thai favourites like papaya salad with grilled chicken, Thai coconut soup with prawns, and tom yum seafood.

A specialty of the new restaurant is its range of premium imported meats and seafood, such as New Zealand lamb chops, Australian lobster, salmon with lemongrass, pork neck fillet, chicken with lime leaves, and sumptuous sea scallops. These global delicacies are all grilled to perfection using Thai herbs and spices to enrich the flavour. An indulgent grilled mixed seafood platter is also available – ideal for two people who want to create a shared culinary memory.

Naturally, a full spectrum of colourful Thai curries are available, including yellow curry with crab, red curry with roasted duck and pineapple, and green curry with chicken, along with a choice of rice and noodles, including the world famous phad Thai.

Guests can complete their meal with a delectable dessert, such as the signature sticky rice with durian and coconut milk, and the classic sago pudding, and the beverage list includes tropical juices, frozen smoothies, signature cocktails, beers, spirits and fine wines.

Mango Tree now operates three restaurants in Mainland China, including the two locations in Guangzhou and Mango Tree Qingdao. China will now play a significant role in Mango Tree's global expansion strategy, as it works towards achieving a global collection of more than 100 outlets worldwide by 2025.
For further information and high-resolution photography, please contact:

Trevor MacKenzie
Managing Director
Exquisine System (Mango Tree & COCA Restaurants Worldwide)
Tel: +668 1550 3150
E-mail: trevor@exquisinethai.com
Website: www.exquisineglobal.com


Notes to Editors
The Mango Tree group is a dynamic, innovative and fast-growing company that has a vision to bring authentic Thai cuisine with a creative twist to the world, and to plant a Mango Tree in every major world city. At the vanguard of the global Thai food explosion, the Mango Tree group comprises the Mango Tree, Mango Tree Bistro and Mango Tree Cafe brands, as well as Coca, the contemporary steamboat suki concept. The group's heritage dates back to 1957, when Khun Srichai Phanphensophon opened the first Coca restaurant in Surawong, launching the suki trend in Thailand. The pioneering spirit continued when the group's CEO and celebrity chef Pitaya Phanphensophon, Srichai's son, opened the first Mango Tree restaurant in the heart of Silom in 1994. Today, the group operates more than 70 restaurants and cafes in 13 countries in Asia and the Middle East. Part cultural ambassador and part culinary innovator, Mango Tree has charted a course to become the premier global Thai cuisine brand, delivering quality Thai cuisine, stylish design, and intuitive service that always exceeds diners' expectations.