Newly-opened Mango Tree Kitchen Gapao Daimaru Shinsaibashi specialises in phad gapao, the popular Thai dish of spicy stir-fried meat with basil leaves on rice, topped with a fried egg, with eat-in or takeaway options

Gapao Gai set served with clear soup, a spring roll, small salad and dessert.
BANGKOK, THAILAND (20 September, 2019) – Mango Tree Restaurants Worldwide, the leading Thai restaurant operator, has continued its rapid expansion in Japan with the launch of a new Mango Tree Kitchen in Osaka, which specialises in phad gapao, the popular Thai dish of spicy stir-fried meat with basil leaves on rice, topped with a fried egg.

The new Mango Tree Kitchen Gapao Daimaru Shinsaibashi is perfectly positioned in Daimaru Shinsaibashi, a prominent department store in the heart of downtown Osaka's retail district. In this central location, guests can discover a choice of tasty and authentic gapao bowls, set menus, side dishes, salads and refreshing beverages, either to eat in or take away.

Five varieties of gapao dishes are available, including minced chicken, minced pork, crispy pork, seafood and mixed vegetables, all of which are freshly made with holy basil, garlic, chili and other ingredients, and served with steamed jasmine rice and a fluffy fried egg. A series of Gapao Set options are also available, allowing diners to combine their favourite gapao with clear soup, a spring roll, small salad and dessert, creating an excellent light lunch.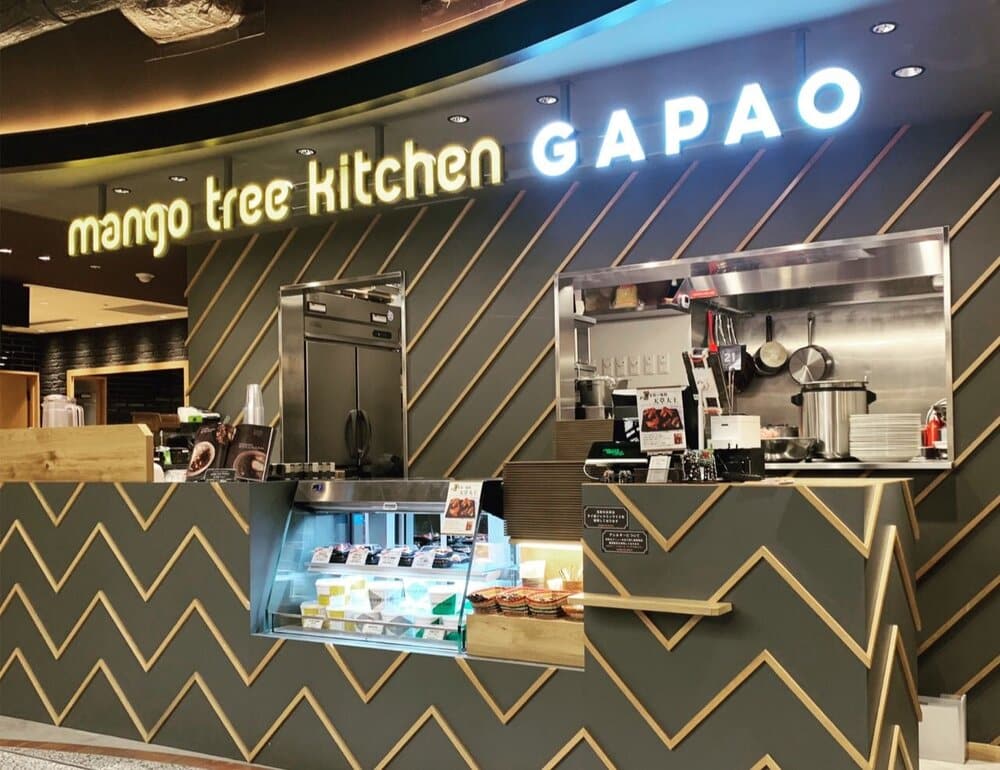 Alternatively, guests can savour a choice of traditional Thai curries, spicy papaya salads and a selection of succulent chicken side dishes, including deep-fried crispy chicken and Thai-style BBQ chicken. All of these options use Japan's famous free-range Amakusa Daio chickens, which are raised in the Amakusa area of Kumamoto prefecture and exude natural sweetness and umami.

Whichever dish diners choose, it can be enjoyed with a series of alcoholic and soft beverages, including Thai and Japanese beers, iced teas and coffees, fresh and frozen tropical juices, plus exotic blends such as butterfly pea and lime soda, and coconut milk with mango juice.

The launch of Mango Tree Kitchen Gapao Daimaru Shinsaibashi marks the latest stage of the company's pioneering strategy of providing quick service Thai dining in areas of high footfall, such as major malls and busy transport hubs. These prime locations are expected to attract local shoppers and groups of friends seeking a light and healthy lunch, as well as office workers and commuters in search of an enticing alternative for their lunchtime takeaway.
Mango Tree Kitchen Gapao Daimaru Shinsaibashi
The Mango Tree Kitchen concept focuses on famous Thai dishes that have become everyday food among Japanese diners, such as phad gapao, khao mun gai (Thai-style Hainanese chicken rice), and phad Thai (stir-fried noodles). Several outlets have already been launched in high-volume areas across Japan, including Tokyo Station, with many more planned in the future.

"Japan is one of Mango Tree's largest and most important markets, so we are delighted to introduce another of our innovative concepts to the country. As Japan's culinary capital, Osaka is the ideal place to introduce local diners to authentic Thai cuisine. With our prime location in Daimaru Shinsaibashi, Mango Tree Kitchen Gapao will provide quick, convenient, and above all delicious Thai cuisine to the thousands of people who pass through this popular destination every day," said Trevor MacKenzie, Mango Tree's Global Managing Director.

Nestled in the Chuo-ku ward of central Osaka, Shinsaibashi is the city's main retail area. Home to covered shopping streets, department stores, global brands and boutiques, this bustling district attracts locals and tourists alike. This will make the new Mango Tree Kitchen popular not only with Japanese customers, including younger diners, female friends and family customers, but also with overseas visitors, especially from other parts of Asia. This will become the first Mango Tree outlet in the southern part of Osaka, complementing the group's three existing restaurants in the north of the city.

Mango Tree Kitchen Gapao Daimaru Shinsaibashi becomes the 27th location in the company's fast-growing Japanese portfolio. The country will now play a significant role in Mango Tree's global expansion strategy, as it works towards achieving a global collection of more than 100 outlets worldwide by 2025.
For further information and high-resolution photography, please contact:

Trevor MacKenzie
Managing Director
Exquisine System (Mango Tree & COCA Restaurants Worldwide)
Tel: +668 1550 3150
E-mail: trevor@exquisinethai.com
Website: www.exquisineglobal.com


Notes to Editors
The Mango Tree group is a dynamic, innovative and fast-growing company that has a vision to bring authentic Thai cuisine with a creative twist to the world, and to plant a Mango Tree in every major world city. At the vanguard of the global Thai food explosion, the Mango Tree group comprises the Mango Tree, Mango Tree Bistro and Mango Tree Cafe brands, as well as Coca, the contemporary steamboat suki concept. The group's heritage dates back to 1957, when Khun Srichai Phanphensophon opened the first Coca restaurant in Surawong, launching the suki trend in Thailand. The pioneering spirit continued when the group's CEO and celebrity chef Pitaya Phanphensophon, Srichai's son, opened the first Mango Tree restaurant in the heart of Silom in 1994. Today, the group operates more than 70 restaurants and cafes in 13 countries in Asia and the Middle East. Part cultural ambassador and part culinary innovator, Mango Tree has charted a course to become the premier global Thai cuisine brand, delivering quality Thai cuisine, stylish design, and intuitive service that always exceeds diners' expectations.