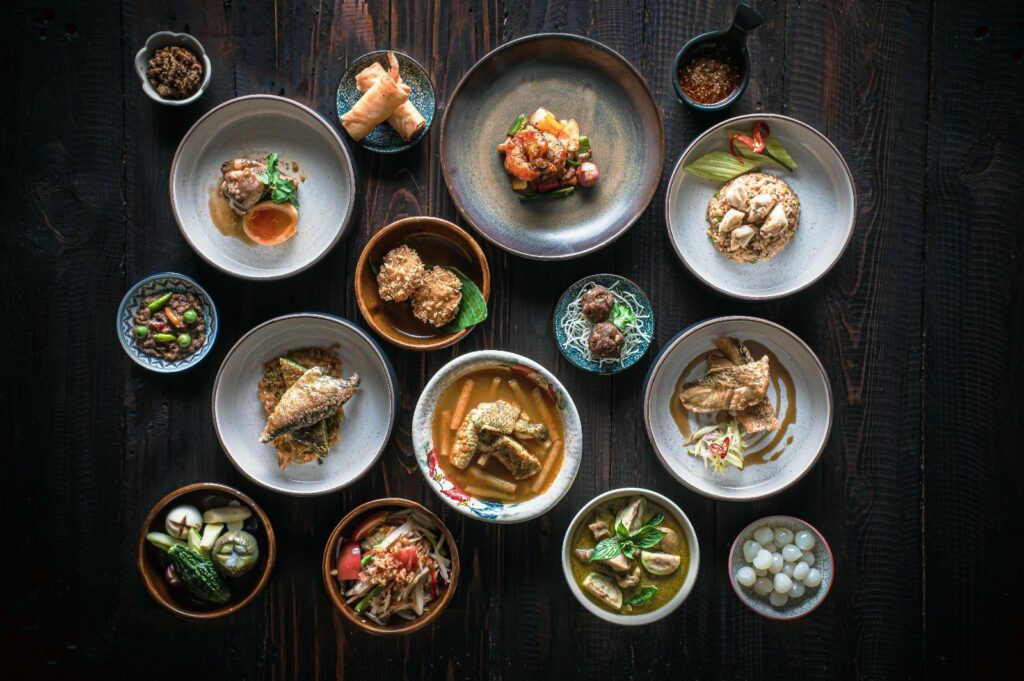 Creative culinary concept at Mango Tree Surawong celebrates CEO Khun Pitaya Phanphensophon's own rich family heritage, using seasonal ingredients to craft traditional dishes from the various regions of Thailand Mango Tree Surawong's new Tasting Menu celebrates fresh, locally-sourced Thai produce

BANGKOK, THAILAND – Leading Thai restaurant operator Mango Tree Worldwide is inviting guests and local residents in Bangkok to discover the rich heritage of Thai cuisine with its exclusive new Tasting Menu, inspired by the life and journey of the company's CEO & Chairman, Khun Pitaya Phanphensophon, whose family history is deeply ingrained in Thailand's culinary culture.

Available at Mango Tree Surawong, the popular restaurant in Bangkok's heritage district, this new lunch and dinner menu features a selection of delectable dishes across three courses, highlighting some of the finest and freshest produce from four diverse regions of Thailand: northeast, northern, central and south.

The Tasting Menu will also celebrate Mango Tree's own story, as it showcases some of the most memorable menu items crafted at the group's restaurants over the last 32 years, using recipes that have often been passed down from generation to generation. The concept is deeply personal to Khun Pitaya, whose father Khun Srichai opened the first COCA restaurant in Surawong in 1957.

"At Mango Tree, we want to be a restaurant group that Thai people are proud of, and that represents the best of Thai cuisine on a global stage. By using authentic ingredients from the diverse regions of Thailand, our new Tasting Menu pays tribute to the Kingdom's time-honoured gastronomy and embodies the genuine warmth of Thai hospitality," Khun Pitaya commented.

"Our restaurants have always strived to create a warm and welcoming ambience that makes our customers feel as if they have been invited to dine in a traditional Thai home. With its enchanting interiors, shady garden, classic and contemporary furnishings, and antique pieces including my father's own collection of classic cameras, Mango Tree Surawong captures this atmosphere perfectly. We look forward to providing outstanding dining experiences for local people and visitors alike," he added.

Mango Tree's concept feels warm and welcoming – like a homecoming. That is not to say it is unrefined however; each course is cooked to perfection and presented with style and flair, offering a sense of occasion for all diners.

Guests can savour a selection of appetisers, main courses and desserts that showcase the best seasonal produce from all corners of the Kingdom. Native elements include fleur de sel (flower of salt) from Phetchaburi, organic fish sauce from Samut Songkhram, premium beef from Buriram, and homemade curry paste from Nakhon Si Thammarat.

These wonderful regional flavours are used to craft a 10-course menu for lunch and a 15-course selection for dinner. Diners can enjoy heavenly dishes such as som tam goong foo (papaya salad with crisp fried shrimp) from Northeast Thailand, tom kha pla muek hoi lai (coconut soup with squid and clams) from Central Thailand, and kluay thod sang kaya (dried banana with pandan cream) from Southern Thailand – timeless classics that are elevated to new levels of excellence.

Mango Tree Worldwide sources its ingredients from responsible Thai suppliers, including small-scale farms and fisheries. It also operates its own organic farm, which is dedicated to cultivating fresh fruit, herbs, vegetables and more in harmony with nature, free from chemicals, pesticides or other unethical practices. This also supports the company's heightened focus on vegetarian and vegan cuisine.

The Tasting Menu is available for lunch (12.00-14.30 hrs, THB 330) or dinner (16.00-20.00 hrs, THB 580) at Mango Tree Surawong. For more information and reservations, please call 02 236 2820.